An all-star cast of integrative cancer clinicians came together for the Beljanski Integrative Cancer Conference in Jacksonville, Florida, to share their life-saving knowledge and findings, while ANH-USA receives an award.
By Rob Verkerk PhD, Executive and Scientific Director, ANH-Intl and ANH-USA
Editor's Note: This is a shortened version of Dr. Verkerk's article. You can read the full version here.
What kind of cancer care have you opted for if you have been diagnosed — or — would you opt for, should you be diagnosed?
Are you happy to place your trust in mainstream oncology, or have you been put off for one reason or another, perhaps after learning of experiences of loved ones or friends? Or would you place your trust in an alternative to mainstream cancer care (there are many)? Do you have enough information about your options to exercise genuinely informed consent? Or like many, do you go mainstream initially, and resort to alternatives in the event of failure?
The Beljanski Integrative Cancer Conference (held in Jacksonville, Florida from October 13-15) from which we've just returned was one of the best examples of a demonstration of just how far alternative cancer treatments have come, when done properly. More on that a bit later.
Cancer risk
Listen up, men. Your risk of contracting cancer at some time in your life is about 50:50, and you've got around a 1 in 5 risk of dying from the disease. If you're a women, the odds are only marginally better.
So say stats from the American Cancer Society, as well as stats from other industrialized nations such as the UK and the Netherlands.
Cancer has often tragic impacts at a personal and familial level, but it also means it's big business. Very big business. The oncology drugs sector alone is worth nearly $210 billion now, with expected growth to a staggering $484 billion by 2030.
The first national 'War on Cancer'
Despite the "war on cancer" having been declared in the US by President Richard Nixon in 1971, progress during this more than half a century has been less than spectacular. The biggest decline has been seen in deaths from lung cancer (which is associated largely with declines in smoking rates), while modest declines have also been seen in deaths from breast and colorectal cancers. Death rates from the 7 other top cancers have more or less flat-lined over the last 50 years.
The arsenal of weapons used in the 'war' continues to evolve and more is understood about the disease and its extraordinary complexity, but improvements in outcomes among mainstream cancer treatment providers, except in cases of breast and colorectal cancers, have been disappointing.
Winning the War on Cancer: revisited
Accordingly, it was a remarkable privilege to listen to and discourse with so many of those still among us who have been in the front lines of developing effective integrative cancer treatments. The event in question was the 3-day, inaugural Beljanski Integrative Cancer Conference, held in Jacksonville, Florida, on October 13-15. The conference carried the slogan "Winning the War on Cancer" which, I have to say, I interpreted as something along the lines of "Mainstream oncology, you've given it your best shot, it's now time to recognize that cancer can only be overcome through better integration of largely natural approaches that work with, not against, the body." Four of us from ANH were fortunate enough to be able attend the conference, namely Meleni Aldridge (ANH-Intl Executive Coordinator and ANH-USA Board Member), Jo Twombly (Deputy Director, ANH-USA), Ruth Westreich (Board Member, ANH-USA) and myself (Executive Director, ANH-Intl and ANH-USA).
This incredible work, much of it delivering outcomes that can only be dreamed about in mainstream cancer care (this apparently radical assertion being based on detailed comparisons made by Hope4Cancer and its 1 year and 5 year survival data against SEER data), is not the product of billions of dollars of research funds. Rather, it's the product of deeply inquisitive, open minds, profound knowledge of the complexity of the disease and its relationship to mind state and life history, decades of clinical or research experience, very big hearts, and a desire to do the maximum possible good for cancer patients.
A theme that linked most, if not, all of the speakers, was the recognition of cancer as a disturbance to a natural healing process in the body. This healing, including the total remission and hence clearance of tumours, is something the body is generally capable of doing, but only if it changes its state. Just like the body alters from a non-cancerous state to a cancerous one, it can also revert back to its original state. However, it needs the right kind of support, and while on occasions this might necessitate radical initial intervention, self-healing in the body can always be promoted by providing optimal conditions. These might be by altering the physiological, biochemical, bioenergetic, psychological, social, environmental or spiritual domains of the individual with cancer – and best of all, all of the above.
ANH-USA award from the Beljanski Foundation
It was a great privilege to receive on behalf of ANH-USA the Non-Profit Excellence Award from the Beljanski Foundation, recognizing "remarkable commitment to advancing holistic healing practices."
A video of my acceptance speech and some photos follow:
---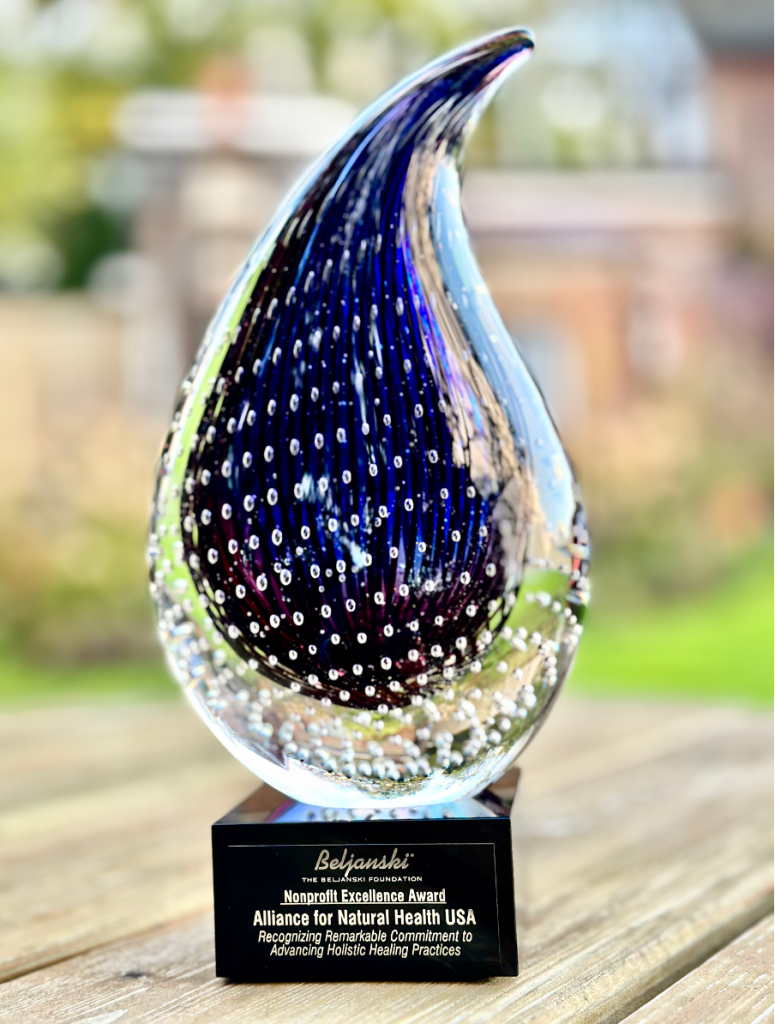 Beljanski Foundation award to ANH-USA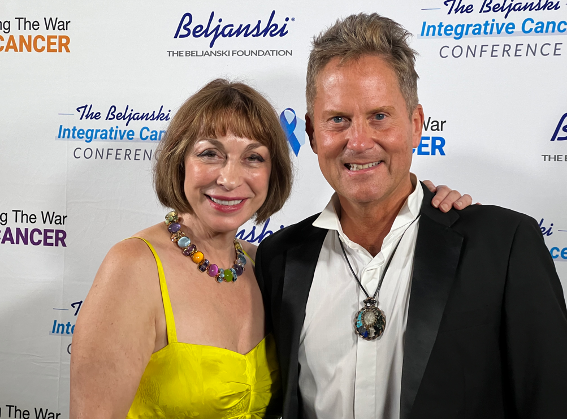 Left to right: Sylvie Beljanski and Rob Verkerk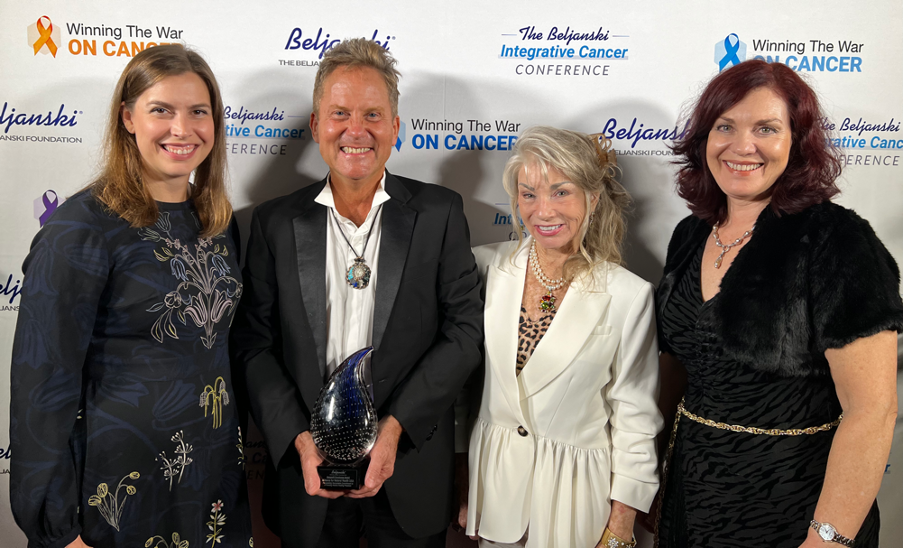 Left to right: Jo Twombly (Deputy Director, ANH-USA), Rob Verkerk (Executive & Scientific Director, ANH-Intl and ANH-USA), Ruth Westreich (Board Member, ANH-USA), Meleni Aldridge (Executive Coordinator, ANH-Intl; Board Member and Treasurer, ANH-USA)
Click here to watch Rob Verkerk's Speaking Naturally interview with Sylvie Beljanski and Nathan Crane