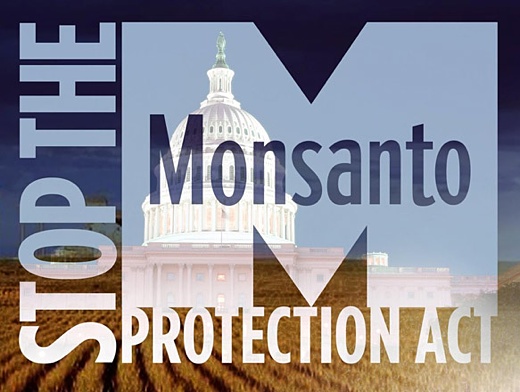 A new bill could overturn this egregious law right away. Action Alert!


In April, we reported that the secret provision known as the Monsanto Protection Act, a rider anonymously attached to a spending bill that sailed through Congress in March, had ignited a firestorm of outrage from the public. This new law strips federal courts of the authority to halt the sale and planting of illegal, potentially hazardous genetically engineered crops even while USDA is performing an environmental impact statement.

ANH-USA has spoken with the office of Sen. Jeff Merkley (D-OR), and we have confirmed that the senator is planning to introduce an amendment to the upcoming Senate Farm Bill which would repeal the provision. The Monsanto Protection Act is set to expire at the end of September, with the temporary spending measure, but might be rolled in to the next one if we don't act. If we can we get rid of it now, it would be a signal from the American people that nothing like this sneak provision, stuck without warning into must-pass, unrelated legislation, should never again be attempted.

Sen. Merkely needs to build support for the amendment to improve its chances of being voted on when the Farm Bill goes to the Senate floor next week.

This year's Farm Bill is nearly identical to the 2012 version that passed the Senate but not the House. The most significant change in this year's Farm Bill is the end of direct payments to farmers, who have traditionally been paid whether they grow crops or not. The program costs American taxpayers about $5 billion a year. The new bill would instead increase financing to farmers for crop insurance, a federally subsidized program that pays insurance premiums for farmers and covers decreases in crop revenue.

In addition, the funding levels of the Supplemental Nutrition Assistance Program (SNAP) in the 2013 Farm Bill are extremely controversial. The program, which serves 47 million Americans, gives $70 billion a year in food stamp assistance, which amounts to about 70 percent of Farm Bill spending and eclipses the crop insurance program. The House Agriculture Committee wants to cut $20.5 billion in food assistance over the next ten years to rein in SNAP's growth. Republicans say the cuts to SNAP should be bigger while Democrats argue they're already too big.

The Farm Bill will be moving quickly, so we need to take immediate action. Please send a message to your senators today and ask them to support Sen. Merkely's amendment to repeal the Monsanto Protection Act!